We produce powerful marketing for BOLD brands.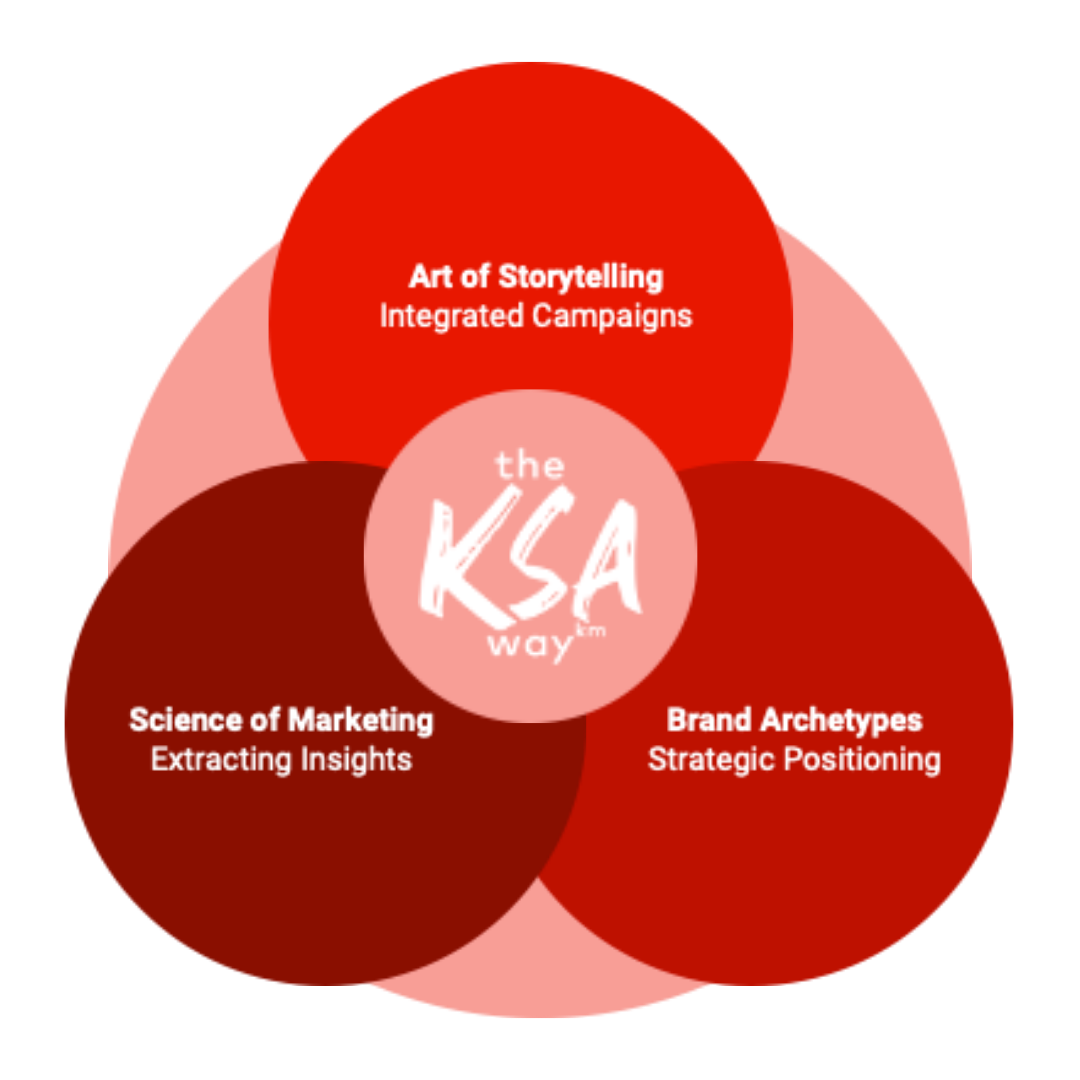 KSA's philosophy augments The KSA Waykm,
providing three overlapping areas of focus:
1. The Art of Storytelling told through integrated marketing campaigns across paid, owned and earned channels
2. The Science of Marketing using diligent and honest data and process to extract insights
3. Brand Archetypes for creative consistency of messaging and positioning
This formula results in performance-driven marketing that doesn't sacrifice creativity.
We produce powerful marketing for BOLD brands.
International brands, local businesses, and government agencies alike hire us to concept, curate, and deliver integrated marketing campaigns.
"There are not too many people I would entrust with our celebrity talent relationships and complex approvals supporting over 100 countries and multiple brands.  The organization, quality communication, attention to detail and tireless delivery against tight deadlines is unmatched by Team KSA."
"KSA Marketing embodies what it means to be 'Team KSA'. Over the past 4 years, KSA has provided valuable insight and leadership in developing and facilitating a number of layered, complex projects.  The ease in which Katie and her team respond, articulate and execute is amazing while the creativity and approach to problem solving is comprehensive as well as dynamic, capturing the essence of what needs to be said with an authentic company voice. I am very happy with their services, and very thankful for their continued insights and support."
"In the eight months we have been working with KSA, I have learned more about various aspects of my business than in the past eight years! KSA has helped me preserve my lengthy family business history and use that story to connect to today's buyers. Working with KSA is a bit like Christmas… each meeting is full of unexpected pieces of information, takeaways and insights that are delightful surprises. Thank you KSA for all of your hard work, interest and partnership in marketing our company!
"The high level of energy that KSA brings to project development is infectious. Their progressive thinking leads to innovative marketing campaigns."
Want to see how we can kick-ass for you?
Let's talk. Enter your information below and we'll reach out to schedule an exploratory call.