At the end of April, Twitter released a live test for their "Professional Profiles," to target brands and businesses on the platform. Our first question was, "how does this not already exist?"
Professional Profiles
This new feature will create a distinction between users who create accounts for personal use vs business news. In a tweet unveiling the feature, Twitter said "Professional Profiles are a new tool that will allow businesses, non-profits, publishers, and creators – anyone who uses Twitter for work – to display specific information about their business directly on their profile."
Businesses can now add their contact information to their profile in a new layout. The goal is to make these profiles look more professional and stand out from the others.
Another important development in these profiles is they will have a monetization technique. This feature would help brands and businesses generate revenue. The exact details of what perks a professional profile will offer are still unclear. Business experts suggest this could lead to more conversation tools, advertisements, and product announcements within the platform.
Features Still in Development
Social Media Today published an article highlighting new layout features users can expect to see in Professional Profiles. Some of these layouts include listing the business category. Although the platform has not yet confirmed, Twitter is also developing a product display panel/image gallery option.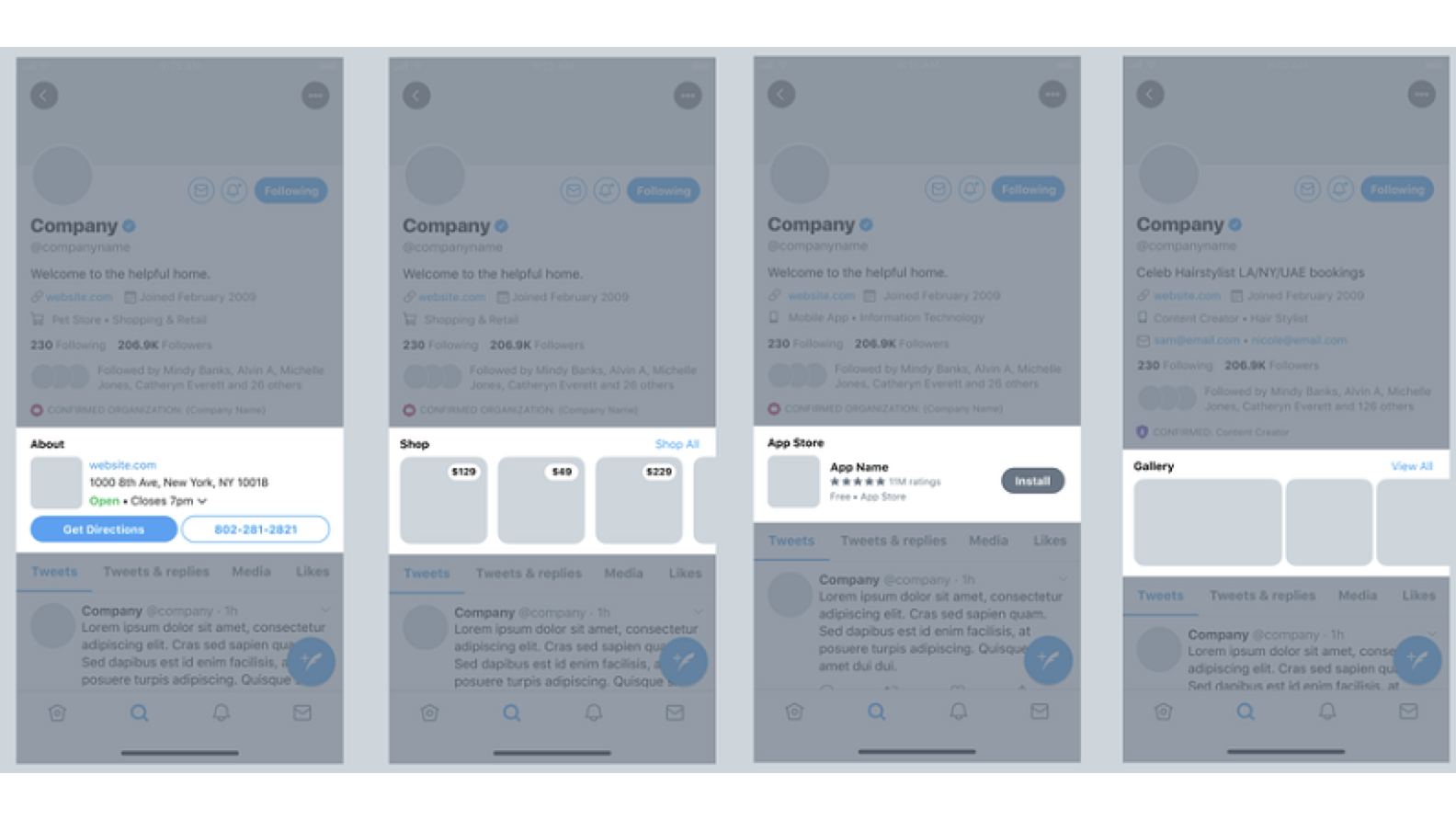 This layout has advantages over both Facebook and Instagram. The advantage over Facebook is you don't have to scroll down the page to find the information you need because it is pinned to the top. Similarly, this layout has an advantage over Instagram because the shop options appear on the profile page where Instagram's shop page is a separate tab altogether.
The Final Platform
It surprised Team KSA that a separate option for businesses does not already exist on Twitter. All other major competitors, e.g., Facebook and Instagram, have their own version of Professional Profiles.
Instagram and Facebook also have a leg up on Twitter because they are linked. When advertising your business on Facebook, you can select the option to have your ads also appear on Instagram. You can also automatically post anything you post on Instagram to Facebook.
We wonder if the shift to Professional Profiles might be a hint of what's to come for Twitter. It is no secret eCommerce is booming on social media platforms. Instagram has even incorporated their shop feature into their main navigation to make online shopping easier for users. Twitter may have realized in order to keep up, they had to develop their own shop feature, and the first step would be to verify businesses.
The future is bright for Twitter, particularly in growing business presence and eCommerce. Although the features are not set in stone, we are excited about the potential Professional Profiles will hold for businesses and brands of all sizes on Twitter.