In their third webinar, "Using Digital Marketing to Move Your Audience through the Sales Funnel", Taylor and David examine how to establish goals for your digital marketing campaign and break down how an understanding of the Marketing Sales Funnel can help you achieve those goals.
The objectives were to:
Learn how to build SMART Goals
Explore the digital marketing sales funnel
Gain actionable insights on how to move your consumer through to conversion
SMART Goals
You need a goal in mind in order to make a campaign, and this goal cannot simply be to "make money." It needs to include how you would achieve the goal and how you know you have achieved it. The best way to establish good goals for your digital marketing campaign is to use the SMART goals format. SMART stands for:
Specific – the goal is direct, meaningful and detailed
Measurable – there is some kind of quantifiable aspect to it
Attainable – the goal is achievable, and you have the tools and resources to complete it
Relevant – the goal should align with your company's mission
Timely – it should have an end date
The three main types of SMART goals are:
Increase traffic
Increase leads
Increase sales
These goals should build on each other and eventually lead to conversion. These three goals also all directly relate to the digital marketing funnel. By understanding this funnel, you will understand what your brand can do to make sure you are having a positive impact on each touchpoint of your customer's journey, which was explained in the second webinar.
Digital Marketing Funnel
This funnel is similar to the customer journey from last week's webinar but focuses more on what your brand can do to ensure it makes positive contact in each touchpoint of your customer's journey. The top of the funnel is more about educating your target audience and the bottom is more focused on increasing purchases and turning your customer into a brand amplifier. The steps of the funnel that will guide the audience through conversion are:
Build awareness
Influence consideration
Drive action
Encourage loyalty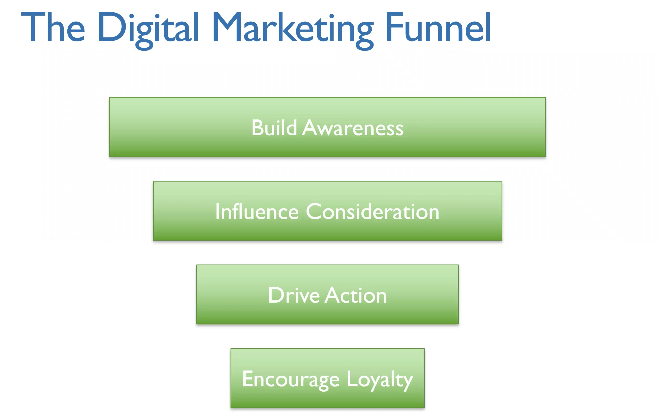 Build Awareness
Building awareness involves figuring out how you can educate your audience on your subject matter, product and brand, as well as understand how to find you. You can connect with your built-in audience by informing them of your digital shift, while also growing your audience through User Generated Content (UGC) campaigns or providing industry specific resources for your target audience. Taylor suggests using paid campaigns such as Google Search Campaigns or Paid Media Search Campaigns to better reach your potential audience. Optimizing your Google My Business can be advantageous if you have a physical location for your business because it makes you discoverable and adds you to Google Maps.
You can also increase your organic search by thinking about what your target audience is searching for. Taylor shows the audience how you can break down the three different kinds of search queries: informational, transactional and navigational.
Understanding what your audience is searching for and how they find you will help you create a keyword list. Keyword lists have two uses; they help inform content creation on your website to increase organic SEO, and they also are a good starting place for paid search campaigns. Sometimes creating keyword lists can be difficult, but there are tools specifically designed to help with them. Some platforms include:
SEMrush
Google Trends
Google Keyword Planner
The HOTH
Through this keyword list and considering the industry knowledge you can provide, you can build content. The more content you can create the better, as long as it is quality content and incorporates your keywords as much as possible. By focusing on what your audience is searching for and using that information to your advantage when creating content, you can successfully increase organic search and bring more traffic to your website, which is one of the three most common SMART goals.
Influence Consideration
Once you have built awareness for your brand, your audience needs to understand the value of the product and view your brand as trustworthy. This can be done through carefully curated messaging that talks about the benefits of your product, as opposed to the features. Focus on what it can do for your customer and not simply what it can do. These messages should also be based on your target audience's drivers and barriers, pushing on drivers to move to conversion and taking away the barriers that might cause them to abandon their cart. Using peer-to-peer marketing through customer reviews of products and services can also help convert your audience. Gated offers can also be used to identify a list of in-market audience members that can be used for retargeting purposes.
Driving Action
Once your audience is interested and is considering purchase, you need to push them over the purchase barriers and ensure the process will be easy. This can be done by creating targeted calls to action and utilizing the in-market retargeting list previously mentioned. Some ways to increase order revenue could be to upsell with product specific add-ons and offer free shipping with specific order amounts.
Encourage Loyalty and Brand Advocacy
Once you have gotten your audience to purchase, they need to understand the value of reviewing your product and view your brand as trustworthy. There is now an opportunity to encourage customers to become followers and subscribers. You can activate your customer to do this by asking for a Google Business Review, creating a refer a friend program for your business, or encouraging social posts as a form of User Generated Campaigns, which will help increase brand awareness and gain new audiences for you to funnel through.
The sales funnel is a constant process. After you move a group of customers through to brand loyalty, they, along with your SEO tactics, will bring in a new round of customers for you to move through the sales funnel.
To review, using digital marketing through the marketing sales funnel will help you
Make early contact with your target audience to build brand awareness
Focus key messaging around product benefits, audience drivers, and audience barriers
Increase cart conversions through retargeting and increase order revenue with product extensions and add-ons
Encourage customers to amplify your brand's message and purchase again
All of these aspects can contribute to achieving your SMART goals, and at a time where digital marketing is becoming more important due to COVID-19, being able to funnel customers to conversion and making them advocates for your brand will help you continue to achieve success online. To learn more specifics on how to work through each aspect of the digital marketing funnel and what tools Taylor and David offer, you can watch the full webinar here.