In their second webinar, "Preparing to Sell Online: Reinventing Your Business for eCommerce" Taylor and David tackled how to adopt eCommerce into your business practices along with other digital methods that will help your business thrive while quarantine and other COVID-19 measures keep customers out of stores and force them online.
The objectives of the webinar were to:
Redefine eCommerce in our new world as small and local businesses adapt to new consumer behaviors
Rethink website design based on user experience concepts and the customer journey
Discover how to incorporate SEO tactics for increasing organic search rankings
Taylor defined three essential levels of eCommerce and successfully making sales online:
The platforms you sell on
Easy to buy
Meeting market demand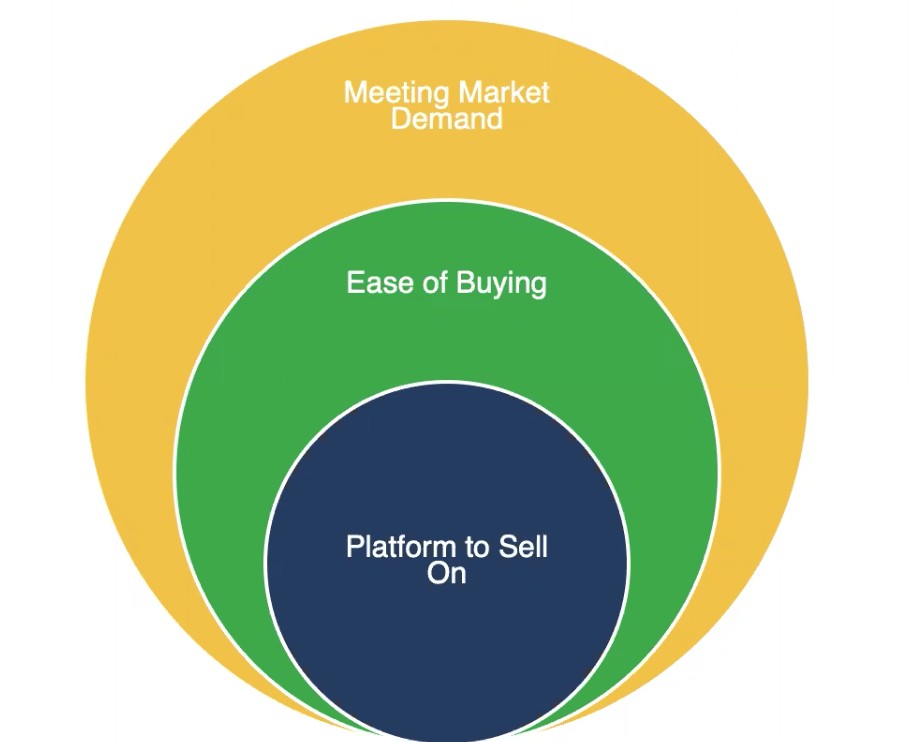 How to make your product available online?
Every business should have a website or platform to sell on, so they have the ability to convert a customer online, especially now when that is the only method of creating sales for small businesses due to COVID-19 measures. In order to make more of your product available online, you could either use your own website or other platforms for eCommerce. Some of the different platform options are:
Company owned platforms (Squarespace, Shopify.com) which give the business full control and a platform that appears to be truly owned digital property rather than a 3rd party. There are no additional fees and your brand is on full display, but they can be tricky to learn.
Marketplace platforms (Etsy, eBay, Grubhub) which are larger sites that give you the ability to have a page within their site where you can sell your product. It is easy to set up and has a built-in audience, but you lose a percentage of your sales to the platform and their branding is the focal point, not your own, which can make it difficult to differentiate from other brands on the platform.
Social Market Platforms (Instagram, Facebook Marketplace) which should not be considered an eCommerce site by itself but should be an extension of another eCommerce platform to add convenience for customers. The advantage of this is you can bring your store to your own audience, but you have to make sure you are using the right platforms and there can be a lengthy approval process and extra expenses in commissions and fees.
Google Platforms (YouTube, Google Merchant Center) are sometimes mistakenly thought of as eCommerce platforms but are more of an advertising tool because you will need a company-owned platform to send your customers to in order to finish the transaction.
As a business, you have to not only think about what the end goal you want to achieve is through the eCommerce platform, but also research to compare available platforms before you commit to one. Your website should be the core eCommerce platform, and others should be used as extension opportunities.
Ease of Buying
An eCommerce platform alone won't convert customers online; it ultimately comes down to the design of the website to convert purchases. The design needs to be purposeful and clean to create a simple experience and avoid losing sales. If the website is not seamless to navigate, then there is a potential to lose customers who get confused or lost before finalizing their purchase.
Ease of buying can be created by mobile friendly websites and a User Experience Design. Mobile friendly sites are becoming incredibly important to customers because they want your product and website to be wherever they are; giving them this option increases your customer base while making them more appreciative of your business. Taylor emphasizes the importance of having a User Experience design, also known as UX design, which focuses on designing the website with user experience specifically in mind. In order to create an informed UX design, as a business you must understand your customer's journey, from how they find you to what makes them convert to a sale. Customers want to know who you are as a brand and by putting down their journey on paper you can add value to their experience through your website. You can also use more specific design elements such as positioning, size, shapes and colors to help move your user's attention around your page.
Meeting Market Demand
The last piece of eCommerce is making it easy for your customer to find you online, which can be done through search engine optimization, SEO, or social media tactics. David explains SEO is how you make sure if someone is looking for something related to your business, your website is one of the first results in their Google search. He separates On-Page and Off-Page SEO and talks about the technical and content aspects of On-Page and the importance of Off-Page to create credibility for yourself and increase your mentions so Google ranks you higher in their results.
To review, there are four main factors that play into success when moving your business online:
Choosing the eCommerce platform that is best for your business
Understanding your customer's journey from brand discovery to conversion
Using UX design concepts to enhance the customer's journey through your website
Incorporating SEO tactics to reach your audience
To learn more about the specifics of how to use each platform to conduct eCommerce, and learn specific tips and examples Taylor and David give for how to design your website based on UX design and make it mobile friendly, watch the full webinar here.